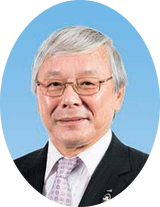 I would like to begin by expressing my sincere gratitude for your understanding of and support to the Asia and Oceania Association of the ICMIF.
I have the utmost respect for the work and effort our members have put forth towards promoting cooperative and mutual insurance and business development in respective regions, and the various community activities our members are conducting.
AOA holds a biennial seminar aimed at the further development of regional cooperative and mutual insurance. The seminar features expert lectures and presentations through which member organizations introduce successful case studies. The seminar also provides an opportunity for sharing the latest social and economic information, and considering measures to address issues common to member organizations.
The theme of this year's seminar is "Reaching Tomorrow's Customers Today".
According to a survey conducted at the ICMIF General Conference held in Minneapolis last year, the most impressive and exciting were sessions focused on the increasingly popular topics such as using digital technology in the fields of cooperative and mutual insurance, and younger generations (Generation Y), which are more adept at the use of digital technology.
During this seminar, we will look at the issues of the future, which were identified during the ICMIF Minneapolis General Conference, because they also relate to Asia and Oceania. By sharing these topics with as many people as possible beyond those who participated in the Minneapolis General Conference, it is my hope that this information will serve as a frame of reference for future business management by all our members.
I would like to take this opportunity to thank every speaker who willingly accepted our invitation and the organizations serving as hosts at the seminar.
October 2016
Previous Page
Back to Main Page