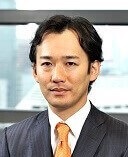 Yuji Ohkita
Managing Director – Financial Services
Accenture Japan Ltd
Mr. Yuji Ohkita is Managing Director of Financial Services at Accenture Japan Limited, a subsidiary of Accenture which is one of the world's largest consulting firms and has been ranked in Fortune Global 500 companies.
Mr. Ohkita has worked on a wide range of projects, including various types of strategy-making, planning and implementation of company-wide reforms, formulation of business operation models, and operational and organizational reformations, mainly for clients in the life and non-life insurance industry in Japan.
In addition to those responsibilities, Mr. Ohkita is expanding his range of activity into planning new types of services beyond the insurance industry, and reformation of business models by utilizing digital technology.