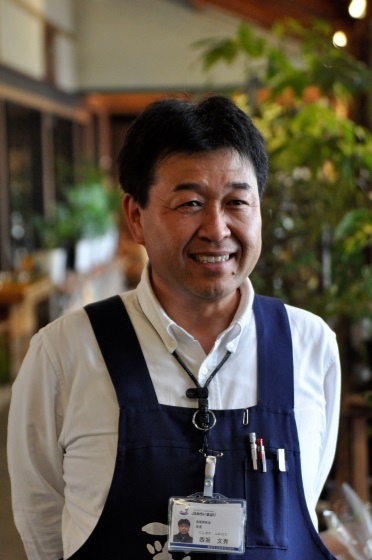 Fumihide Nishizaka
General Manager, Direct Marketing Development
Ochi-Imabari Agricultural Cooperative (JA Ochi-Imabari)
In 1984, Mr. Fumihide Nishizaka joined Imabari-Minami Agricultural Cooperative, which is currently JA Ochi-Imabari after consolidation of agricultural cooperatives in the neighboring areas.
Since then, he has experienced various types of responsibilities such as sales promotion, particularly cooperative marketing and joint selection of fruits and vegetable. He also has been involved in a lot of projects such as cargo-pickup facilities, consolidation of organizational committees, development of new markets, and establishing relationship with large retailers.
Mr. Nishizaka led the cargo-pickup construction project in 1996. JA Ochi-Imabari opened farmers' markets based on his suggestion in 2000, and JA Ochi-Imabari established a large-scale farmers' market in 2007.
Mr. Nishizaka was assigned as General Manager, Direct Marketing Development, in 2014 and he helped JA Ochi-Imabari open a composite facility where customers can visit a JA bank branch, a cafe, a farmers' market, and a restaurant, on the same floor in 2016. JA Ochi-Imabari also opened a shop in Aeon Mall – Imabari Shintoshi, which is a shopping mall operated by Aeon Group, a group of retail and financial services companies, this year.
Mr. Nishizaka has received various awards from the Ministry of Agriculture, Forestry and Fisheries (MAFF), Food Action Nippon, JA-ZENCHU, etc.