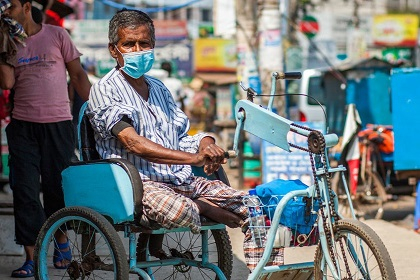 Insurance solutions are a critical element of development, providing sustainability and resilience to almost all aspects of life and living, at both country and community level, whether through macro-economic sovereign-level risk finance or community-level micro-insurance, and everything in-between. Insurance solutions can protect a nation's assets as well as an individual family's health and wellbeing. Integrating financing solutions, with insurance at the heart of a wider financial inclusion pitch, in particular offers major potential to combat the multitude of risks facing community resilience including pandemics, droughts, cyclones and more. The insurance industry, especially through the mutual/cooperative community, has unprecedented and direct access to all of society, and in many cases into the homes and lives of some of the world's most vulnerable families.
The UNDP/ICMIF partnership, established in 2018, aims to leverage the power of the global mutual and cooperative industry to build resilience and deliver inclusive insurance solutions in line with the United Nations Sustainable Development Goals (SDGs). This webinar serves as a discussion between the UNDP and ICMIF members on how the mutual and cooperative sector has responded to the Covid-19 pandemic in emerging markets, how they are building back better and what is being done to promote development through insurance and risk finance.
Moderator:
Jan Kellett, UNDP Team Leader, Insurance and Risk Finance Facility, United Nations Development Programme (UNDP)
Speakers:
Dr Aris Alip, Founder and Chairman, CARD MRI (The Philippines) and Chair of the ICMIF Foundation
M.P. Vasimalai, Executive Director, DHAN Foundation (India)
Graham Clark, CEO, Asia Affinity (Hong Kong)
Shaun Tarbuck, Chief Executive, ICMIF
To register for this webinar or for more information, please visit this page or contact webinars@icmif.org. This content is only available to ICMIF members.
Recordings of each webinar will also be available for ICMIF members to watch after the date of the webinar. ICMIF members unable to join the live viewing of any webinar, but wish to watch the recording, should still register for the relevant webinar as they will then be sent a link to view the recording immediately after the webinar has finished.
ICMIF website: https://www.icmif.org/webinars/pandemics-protection-and-emerging-markets-mutuals-and-cooperatives-as-a-vehicle-for-building-long-term-development/
(Photo credit: UNDP Bangladesh/Fahad Kaizer)