The Asia and Oceania Association of the ICMIF (AOA) formed a study group to learn good practices through mutual exchange. The study group visited AOA's member organization in New Zealand, Farmers Mutual Group (FMG), for three days from December 8, 2015, to observe its business activities and exchange ideas.
Learning good practices for earthquake and farming risks
Nine people from three organizations in Japan and the Philippines participated in the study group that was formed for the first time. On December 9, the group visited FMG's Head Office in the capital city of Wellington to understand their business strategies and measures against farming risks. Mr. Chris Black, Chief Executive, said in his welcome speech that "as mutual exchange is strengthened, cooperation will be enhanced across borders, leading to the development of regional and global cooperative insurance organizations."
FMG has the largest market share in rural areas
Mr. Mike Lange, General Manager Rural Strategy, said, "While FMG's market share remains at about 4% in New Zealand's overall general insurance market, it has a share of 42.3% in rural areas and is achieving steady growth. This is the result of our consistent focus on operating as a mutual organization for farmers, which we have done since we began in 1905." He stressed the importance of being true to their roots and being consistent with their core purpose of giving rural New Zealanders a better deal.
Business strategy and new management policies
Mr. Glenn Croasdale, Head of Marketing, Communications and Digital Marketing, showed confidence, saying that "FMG's most important business strategy is 'customer engagement.' This strategy is based on the idea that 'there is no growth without risk.' FMG has helped farmers prevent accidents by providing advice based on risk analysis and risk management and strengthening its relationships with farmers."
A case study on risk advice
One example of the risk advice FMG provides is around fire protection in housing and buildings. FMG offers clients free consultations with a thermal imaging professional to check their buildings for hot spots that are likely to cause a fire.
Furthermore, "tractor fires" were found to be high risk in rural areas. These occur frequently in the spring when farmers start the engine because wild birds nest in the tractors. In the worst case scenario, tractors are totally destroyed by fire. FMG created a campaign that called on farmers to "Stop and Pop: check for nests under the hood before you start the engine, keep your hood popped when not using the tractor to deter birds from nesting, and keep a fire extinguisher on board." The campaign used online, mail and advertising channels to reach their audience, including an online bird-shooting game. As a result, the number and the value of tractor fire claims have halved in the last five years.
Brand strategy
Mr. Croasdale said, "We partner with clients and consider it important to help them mitigate their risks. Furthermore, we think it's important to have our clients recognize FMG as an expert in providing risk advice."
In FMG's branding slogan "We're here for the good of the country," the word "country" denotes both the nation of New Zealand and the rural areas that support the nation. The message has been directed towards the entire country, the rural areas and the individual farmers. The study group felt FMG's strong will to "develop business for the farmers."
Measures against earthquake risks
On December 10, the study group visited Taratahi Agricultural Training Centre, New Zealand's oldest agricultural education provider, and observed the current conditions of dairy operation. Afterwards, the group visited FMG's office in Palmerston North.
The group received an explanation from Mr. Sean Beattie, National Claims and Service Manager, Advice & Insurance, on the responses that were made when the major earthquake struck New Zealand's third biggest city, Christchurch, in February 2011.
New Zealand's earthquake insurance system is initially covered by the Earthquake Commission (EQC) – a government body that pays up to NZD$100,000 per dwelling. Levies for this are gathered through private insurance companies, and private insurers provide the excess amount. However, in many cases, assessment of damage differed between EQC and private insurers, causing negotiations to delay the claims process. The group received explanations about some of the issues with the current system.
Visiting the site call centre
The study group also visited the call centre located within FMG's Palmerston North office. Here, a goal is set to "answer 99% of phone calls from clients within 10 seconds," and this is often accomplished. As for the inquiries received, visits are made if necessary within 24 hours, details of the inquiries registered and managed in the database, and a system used to enable salespeople to share information. The group was amazed by the finely tuned processes.
Study group's visit leads to solving issues
The visit made by the first study group was extremely useful, having learnt about FMG's business strategy, management policies and specific good practices. Participants of the group said "the holding of such activities will provide opportunities to broaden perspectives and gain insights to solving problems." They also said "it was very informative to see various aspects of another company in the same business."
The AOA would like to take this opportunity to extend our sincere gratitude and appreciation to all the people who took time from their busy schedule to meet and attend to the study group.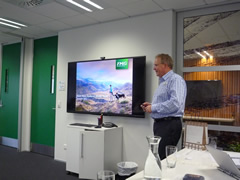 Chris Black, Chief Executive, FMG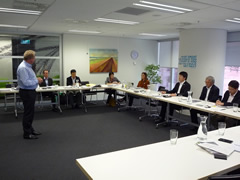 Delegates understand NZ insurance industry structure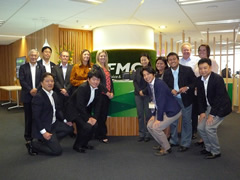 At FMG's Head Office