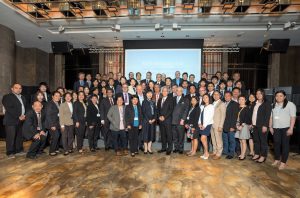 AOA says that 83 people attended the biennial AOA Seminar that was held in Hong Kong on December 6 and 7, 2016, following the previous seminar in Tokyo, Japan in 2016.  According to AOA, 29 organizations representing 11 countries attended.  AOA also says it was pleased to welcome non-member mutual insurers and academics.
The theme of the seminar was "Impact of digital innovation on the strategies of our sector". Through commentaries on the global and regional digital trends, case reports of advanced initiatives by AOA members, and many attractive panel sessions, the attendees were provided with the valuable opportunities to consider not only how to incorporate the evolution of digital technology into their business and utilize it but also the points they should be aware of when utilizing the digital technology.
In addition, as the first attempt, AOA held sessions for young attendees including the roundtable with the selected CEOs of ICMIF/AOA organizations separately from the main seminar. In total, 23 young attendees representing 10 organizations in 4 countries participated actively.
For the details of the seminar, visit here.
 

Participating Cooperative and Mutual Insurance Organizations
| | | |
| --- | --- | --- |
| No. | Country | Organization |
| 1 | Australia | RCA |
| 2 | China | GROUPE VYV – China Development and Operations |
| 3 | China | Public Mutual Insurance Corporation (PUBMI) |
| 4 | France | Inter Mutuelles Assistance (IMA) |
| 5 | Hong Kong | Asia Affinity Holdings Limited |
| 6 | Indonesia | KMB Ltd. |
| 7 | Indonesia | MICRA Indonesia |
| 8 | Japan | CCIJ (Consumer Co-operative Institute of Japan) |
| 9 | Japan | Japan Risk Specialist Ltd. |
| 10 | Japan | JCIA (Japan Cooperative Insurance Association Incorporated) |
| 11 | Japan | JCIF (Japan CO-OP Insurance Consumers' Co-operative Federation) |
| 12 | Japan | NIKKAREN (National Federation of Fire Insurance Co-operatives for Small Business) |
| 13 | Japan | ZENKYOREN (National Mutual Insurance Federation of Agricultural Cooperatives) |
| 14 | Japan | ZENROSAI (National Federation of Workers and Consumers Insurance Cooperatives) |
| 15 | Korea | NongHyup Life Insurance (NH Life) |
| 16 | Korea | The Korean Teachers' Credit Union (KTCU) |
| 17 | New Zealand | FMG |
| 18 | Philippines | ASKI Mutual Benefit Association (ASKI MBA) |
| 19 | Philippines | CARE Mutual Benefit Association, Inc. (CARE MBA) |
| 20 | Philippines | CLIMBS Life and General Insurance Cooperative |
| 21 | Philippines | Kasagana-ka Mutual Benefit Association, Inc. (KMBA) |
| 22 | Philippines | 1 Cooperative Insurance System of the Philippines (1CISP) |
| 23 | Philippines | Microinsurance MBA Association of the Philippines, Inc. (RIMANSI) |
| 24 | Singapore | NTUC Income Insurance Co-operative Limited |
| 25 | United Kingdom | Cambridge Institute for Sustainability Leadership (CISL) |
| 26 | United Kingdom | Willis Towers Watson |
| 27 | InternationalOrganization | Asian Development Bank |
| 28 | InternationalOrganization | International Cooperative and Mutual Insurance Federation (ICMIF) |
| 29 | InternationalOrganization | AOA |