China's Public Mutual Insurance Corporation (PUBMI) has recently joined ICMIF and AOA as the first Chinese member.
PUBMI is the first mutual insurance organization approved by the China Insurance Regulatory Commission (CIRC) and was founded in the city of Shenzhen on February 14, 2017 with an initial operating capital of RMB 1 billion.  The main insurance types are credit insurance, guarantee insurance, short term health insurance and accident insurance.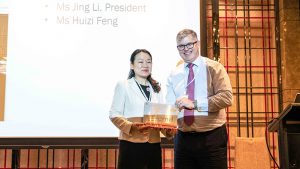 Ms. Li Jin, Chairperson of PUBMI and Ms. Feng Hui Zi, Director of HR & Administration Department participated in the AOA Seminar held in Hong Kong in December 2018.  In his seminar session, Mr. Shaun Tarbuck, Chief Executive of the International Cooperatives and Mutual Insurance Federation (ICMIF) introduced the new entrance of PUBMI to seminar participants and also handed the certificate of ICMIF membership to Ms. Li (Photo).
In her greeting to the seminar participants, Ms. Li said that "I feel greatly honored to attend the AOA Seminar for the first time to communicate deeply with other mutual insurers in the Asia and Oceania region on the concept of mutual, the latest technologies, and the trend of this industry."  In addition, she emphasized that PUBMI not only takes basic responsibility of providing protection and service to its members, but also shoulders the important historical mission and social responsibility as a pioneer of mutual insurance in China.  Ms. Li added that "PUBMI will be, on one hand, a messenger who connects China to the global mutual insurance markets.  On the other hand, we should also take the special national conditions and the economic situation of China into consideration, explore the unique developing model of the mutual insurance in China, bring the superiority of the mutual insurance into full play, and fill the protection gap, so as to set a good start for substantial and healthy development of the mutual insurance in China."