On September 29, 2016, eight people from Japan's three cooperative insurance organizations, Zenrosai, JCIF and Zenkyoren, attended the 3rd ICA Training Course on "Improving Capacity of Rural Women" at the Institute for the Development of Agricultural Cooperation in Asia (IDACA) in Machida City, Tokyo, Japan. They made a presentation on the overview of their business and health-related activities for women, and they also interacted with trainees.
Eight female trainees came from Cambodia, Indonesia, Laos, Malaysia, Myanmar, Nepal, Thailand and Vietnam. Most of them were managers working for governments or cooperatives. The team was accompanied by Mr. K. Sethu Madhavan, Manager-Planning & Membership, ICA-Asia and Pacific. The course was for about two weeks, which began on September 14 and ended on September 30. The team visited Mie and Iwate Prefecture for field trip as well as classroom learning.
Most of the presenters were women, reflecting the characteristics of this course. Presenters and topics were as follows.
Zenrosai, JCIF, Zenkyoren host AOA Seminar in Tokyo.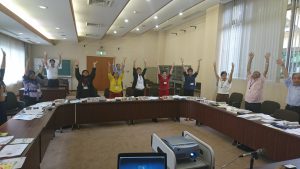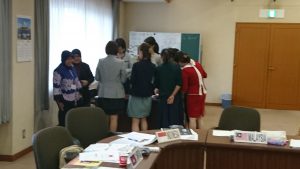 Rainbow Exercise                       Trying Breast Cancer Awareness Kit